Keep In-Touch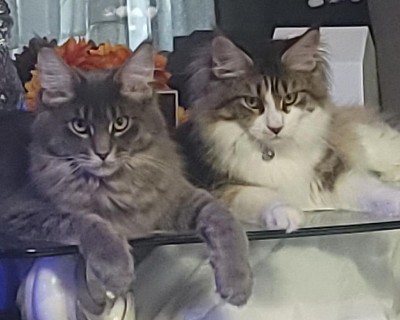 This is a place for new families to keep in touch and show thier growth of our beautiful cattery
Fatima A
We got our Kona (formerly Milky Way) from Melissa back in May. I can tell right off the bat she truly cared about her cats/kittens. She still to this day messages me asking for updates on Kona.

Kona is now 9 months and is almost 20 pounds. He is the sweetest, affectionate, talkative and playful cat I have ever had. He even plays fetch! I am truly blessed to have gotten such an amazing family member from Melissa. 10/10 would recommend!
Mina Chan
We got a male maine coon from Melissa. From the first day he was great with our dogs and my 3yr old. You can clearly see the love and socialization that Melissa and family has put into these kittens. Pasha is growing beautifully and we could not be more happy with our new family member. My mother and friends are now maine coon lovers and are planning to include one into their families now as well! Thank you!
Angela Rhodes
We got our baby Moe from Melissa and Brian….. he is a pure delight and you can tell that he has been well socialized. He is very chill and follows us around and just wants to be close. I can tell that he was well loved and cared for. He is a happy and confident kitty!!! Highly recommend these babies❤️
Corrie Hughes
I have always wanted Maine Coons. I bought 2 from YounsMCoons almost 8 months ago and I could not be more happy that I did. They are the most loving cats ever. Watching them grow and the colors come in is so amazing. YoungsMCoons take care care in their cats/kittens and making sure they are socialized with kids and dogs that I had no issues bring in 2 kittens to our household.